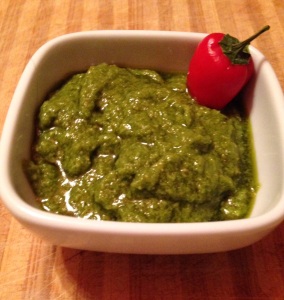 This year Jason decided to get our local CSA so we could have farm fresh food. We have been getting our fresh veggies, capsule dairy and meat since early summer, and we have been loving it! So have our friends. We've been having what I call CSA BBQ's and CSA dinner parties. One thing about getting all this fresh food is, it really is a lot. So you have to be very creative and eat a lot! Having friends willing to help is a blessing. One thing we've been getting is greens. Lots and lots of greens. We eat them for breakfast with fried or poached eggs on top, lunch and dinner. But one of my favorite things we have been doing is taking our arugula, cilantro and parsley and making pesto out of them. Not only do we use all of these tasty greens, we get to enjoy them at our leisure. You can use them as spreads, in pasta, as pizza sauce or add to soups, even rub on a chicken and roast it! The pesto will keep in the fridge for about two weeks or you can  freeze it, which is great way to to make sure it doesn't go to waste.
Arugula and Cilantro/Parsley Pesto
Ingredients
2 cups arugula tightly packed
2 garlic cloves
1 tablespoons pine nuts
¼ cup Parmesan cheese
½ cup olive oil
½ lemon squeezed and separated
Pinch of salt and pepper
Instructions
Roast pine nuts
Drizzle a small amount of oil on bottom of blender
Add arugula, Parmesan, pine nuts, half of lemon juice, salt and pepper
Start blending and slowly add oil
Blend till you get a good consistency
Taste and add more salt, pepper and rest of the lemon juice if needed.
Notes
I love garlic that's why I added so much. But if that is too much use one clove.
For cilantro parsley pesto you just need to switch out a few ingredients
1 cup packed cilantro leaves
1 cup packed parsley
2 tablespoons almonds(some say blanched almonds but I don't think it's necessary)
And continue as normal.