This year we decided to make hot sauces for Christmas.  To say it has been an experiment is a bit of an understatement.  You'd think easy, hospital right? We'll not so easy. It's sort of like a martini.  There may only be a couple ingredients, pilule but if they aren't in the right proportions you're screwed.  Or like us, visit this site running out of the kitchen, opening all your windows and gasping for air. Talk about a gift that keeps on giving! We practically drank a whole gallon of milk and consumed almost a whole bag of chips.  But we kept going and I think we came up with some compelling sauces.  Just don't ask us to remake them! Of course we do have a couple that can be remade and here is one that is sure to please even the most sensitive pallet.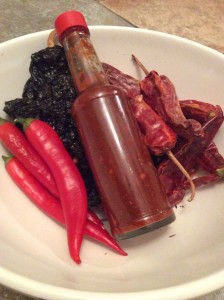 2 Pasilla dried peppers
2 Ancho dried peppers
1 Chipotle dried pepper
1 garlic clove
1 cup of vinegar
salt and pepper
Soak peppers in  warm water till they are soft.   Pull off stems and discard.  Some of the inside guts will come with the stem, that's fine.   Save chile water.  Put chiles in blender and add garlic, vinegar and a little salt and pepper.  Blend till mixed.  You can also use food processor.   If you want a chunky sauce then you are done.   If you want a thinner sauce, then use a sieve the get all the chunks out. If it is still too thick then add some of the chile water to get the consistency you want.