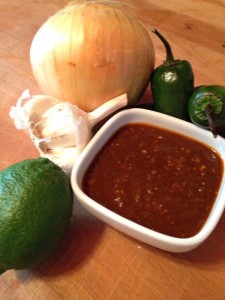 Our newest hot sauce is more of a salsa but not quite.  We added tomatoes so you can really sink your chips into it.
Also we don't put this one threw a sieve but if you want a smoother sauce than you can.  With a heat most hot sauce lovers can handle this one will disappear fast!
Hot Suff
Ingredients
2 packages of grape tomatoes
1 chipotle chile
3 mulatto chili's
1¾ habanero chili(deseeded and destemmed)
4-5 garlic cloves
Small handful of cilantro
½ cup vinegar
* Splash of chili water
Salt and pepper
Instructions
Soak your peppers in hot water for 30 minutes
Either in a bowl weighed down so chili's are submerged or in a ziplock bag
When chili's are done pull off stems and discard
Also discard any seed and veins that come with stems
Combine all ingredients into a blender and blend till smooth
Serve immediately.
Notes
If your worried about it being too hot,
generic
add some lime juice and or decrease the amount of Habanero peppers.
* Chili water is the water you soaked the chili's in.