Spring is here and the grill is out!!!  I was recently at my friends apartment that I spend a good amount of time at.  We BBQ a lot in the warm months of the year and are always trying new things on the grill.  Last weekend we grilled cabbage to make a grilled coleslaw.  It was tremendous!!!   But as most of you know I will through anything on the grill.  Grilled celery anyone?  Don't knock it till you try it.   I'm sure there a lot's of people who feel the same way I do about grilling everything and anything.  So I am sure you will have no problem with this warm version of slaw.  We used only red cabbage instead of the usual red and green.  I cut the red cabbage lengthwise, about 1/4 – 1/2 inch slices, with the core to keep the slices intact.  I left the carrots whole, peeled and cut the onion into rings.  When everything was done I did a rough chop of the veggies, giving them a rustic feel.  When grilling just use a small amount of olive oil on the cabbage.  This makes it so you won't have to use a lot of mayo, which is usually essential in a good slaw.  We used a garlic mayo and minced capers for our dressing.  You could also leave out the capers, squeeze a lime and chop some cilantro with the garlic mayo for a different version.  Even add a little red pepper flakes for some heat.  Or whatever your heart desires.  I find grilling things opens my creative mind to different ways of preparing and eating food.  I hope this inspires you to explore and start grilling in different ways!!!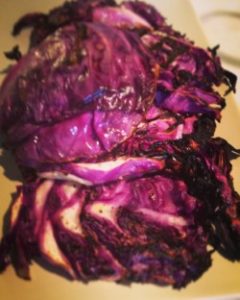 Grill Slaw Is A Thing
Prep time:
Cook time:
Total time:
This is a great way to have a healthier side dish but keeping a bbq staple that everyone loves.
Ingredients
1 Head red cabbage
1 Onion - white, yellow or red
2-3 Large carrots
2-3 Tbsp of Garlic Mayo
A Handful of Capers
Olive oil
Salt and pepper to taste
Instructions
Cut cabbage length wise and keep core intact about ¼-1/2 inch thick.
Peel and slice onion into rings.
Wash carrots thoroughly, and dry them.
Lightly coat onions, carrots and cabbage with olive oil, salt and pepper.
Carrots take a little while so start them first.
Grill veggies till desired doneness.
I usually only flip the onions and cabbage once during grilling.
Gives them a nice grilled sear marks.
While veggies are cooking mince the capers.
When done, cut core out of cabbage and trough away.
Then give a rough chop to all veggies.
I still like to cut the carrots in strings but am not so precise with the chopping.
Toss with mayo and capers.
Salt and pepper to taste.
Notes
The grilling time is approximate. It all depends on your grill and how cooked you want the veggies.